A Woman's Place is Defending Women's Spaces
Karen Ingala Smith's online book launch for 'Defending Women's Spaces'. An evening of conversation between Karen Ingala Smith and Julie Bindel. #16days.
Online book launch of Defending Women's Spaces: Julie Bindel in conversation with author Karen Ingala Smith
Join Woman's Place UK for the online book launch of Karen Ingala Smith's Defending Women's Spaces.
An evening with Julie Bindel in conversation with Karen Ingala Smith about her book,  why single-sex spaces matter and what we can all do to build and protect them.
The book
Who counts as a woman? This question lies at the heart of many public debates about sex and gender today. While we increasingly recognise the desire of some to eliminate the sex binary in law, a particular boiling point emerges through conflicting demands over women's spaces. Which should govern access to these – sex or gender identity?
In this trenchant critique of inclusivity politics, she argues that we cannot ignore the wealth of evidence which shows that people of the female sex have a unique set of needs which are often not met by mixed-sex spaces. Drawing on her 30 years of experience in researching and recording men's violence against women and girls, she outlines how certain spaces, including refuges, benefit from remaining single sex – and what they stand to lose. Written with sensitivity and respect for all concerned, this book nevertheless dismantles the idea that we have reached a post-sex utopia.
Karen Ingala Smith is CEO of nia, a women's sector NGO. She has 30 years experience of providing specialist services to women. She is also the co-founder and director of the Femicide Census and Counting Dead Women (recording and commemorating all UK women killed by men or where a man is the principal suspect/perpetrator). She is a Director of Woman's Place UK.

Julie Bindel is a journalist, writer, broadcaster and researcher. She has been active in the global campaign to end violence towards women and children since 1979, co-founded Justice for Women in 1990 and the Emma Humphreys Memorial Prize in 1998. She writes regularly for The Observer, Spectator, Telegraph and Unherd, is the author of over 30 book chapters and reports. Her previous books include Straight Expectations (shortlisted for the Polari Prize), The Pimping of Prostitution and Feminism for Women.
#DefendingWomensSpaces
Order your copy of Defending Women's Spaces here.
As part of #16days, nia and WPUK have partnered a campaign to get this book into the hands of every MP! If you would like to sponsor a copy, and even include a personalised note please click here.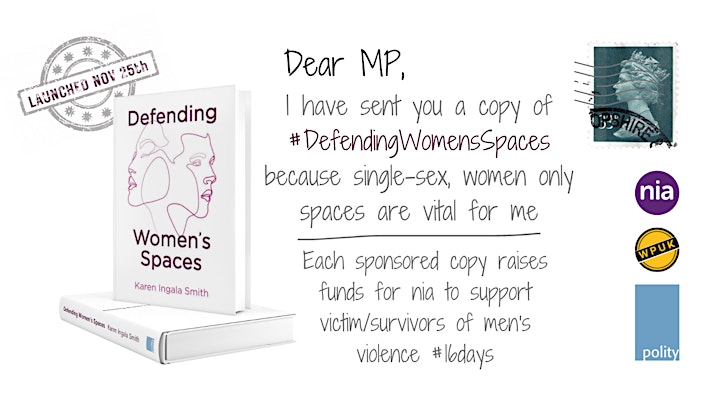 We believe that it is important to share a range of viewpoints on women's rights and advancement from different perspectives. WPUK does not necessarily agree or endorse all the views that we share.